This marvelous Vega was designed and first built before radio navigation was available--before aircraft electrical systems existed, for that a matter. Over the next few years, however, advances were rapid and early low-frequency ranges and radio direction finders changed the game and were installed in the aircraft along with batteries and generators. Regardless of the advances, though, if you were flying thousands of miles across an ocean, no radio navigation was possible until LORAN and GPS became available decades later.
In short, if you're going to make long flights in the Vega across oceans or continents you need to know how to use deduced reckoning (ded-reckoning, aka dead-reckoning, also called DR) and celestial navigation using the stars.
Dead-reckoning
DR is amazingly accurate over moderate distances.
Use a chart
to plot your course, figure in wind to deduce your heading to fly, figure your ground speed to deduce how long it will take to get there, and
voilá
. Point 'er in that direction, fly until the clock says you're there, and by George, there you are!
Using a drift meter, first used in a Vega, the
Winnie Mae
, you can even peer through the floor of your bird, make sure the wind forecast was correct, and change course if your drift isn't as predicted--in other words, use reality not prognostication, to reach your destination.
Here's a course plot for a flight from Easter Island to Tahiti. Each leg is about 2 hours in the Vega. The course changes were used to approximate a great circle route instead of longer rhumb line (aka loxodrome).
Of course, if the wind forecast is off and you don't correct your drift, if you forget to figure in magnetic variation and compass deviation, or if you don't do a very good job of holding your heading, things won't work out so well. But even then, experience has shown, you'll be pretty darn close. It's almost spooky how well DR works if your trust it.
Offset navigation
In any case, one way to improve your chances of finding a destination when using DR or celestial, early pilots learned, was to navigate to a point that was 10% (in miles) offset 90º from your actual destination. That way, when you arrive and don't find the island or airport you're looking for, you know which way to turn. "I
know
I'm northeast so if I turn left I'll be headed toward my destination. I
know
it can't be the other way unless I've made a huge mistake." You've reduced the possible solutions to your problem and it really does work. Usually.
It didn't work for pilot Amelia Earhart and navigator Fred Noonan in a twin-engine Lockheed Electra in 1937. She radioed at 8:43 a.m. on July 2nd, to the
Itasca
, a U.S. Coast Guard cutter awaiting Earhart at Howland Island: "KHAQQ [her aircraft's call letters] to
Itasca
. We are on the line 157 337." 157-337 was the line from the offset point to Howland. The Itasca received the transmission but couldn't get any bearings on the signal and (so far)
she has not been found
.
Noonan, by the way, was one of the most famous navigators in the world. He had extensive experience in both marine navigation (he was a licensed ship's captain) and aerial navigation (he'd worked for Pan American Airways, where he'd been responsible for training navigators for the routes between San Francisco and the Pacific islands). But he had a serious weakness.
According to a fella by the name of Smella, Noonan had an, um, beverage problem. I bought a 1929 Travel Air biplane back in the late '80s. It was at wonderful grass strip north of Philadelphia called Van Sant (9N1) run by ol' Billy Smella who knew Travel Airs and who knew Noonan.  Seems Noonan flew a Travel Air into trees on takeoff with Smella aboard back in the mid-'30s because he was hung-over. Smella said Noonan drank when he was nervous or upset. That was the way Noonan might have felt, Smella suggested, during a long over-water flight when he was cooped up in the tail of the Electra and his skill most needed because they were running out of fuel.
But I digress. For Wiley Post, Amelia on earlier flights, and many others, DR and celestial worked great. It worked for sailors of old, and it was the best navigation system golden-age aviators had.
Celestial Navigation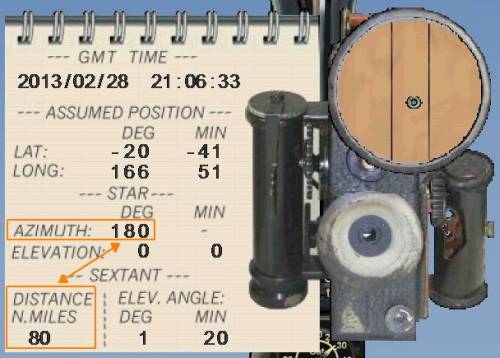 Celestial navigation has a reputation for being a fussy mathematical nightmare, but the concept is actually simple. And it isn't inherently difficult nor does it require extensive mathematics. It's more a procedure that requires meticulous attention to detail. Most of the math has been, and was even back in the '30s, converted to tables so the job was looking up the right number in the right place so you could take a star shot, measure the angle of a star above the horizon, and convert the result to a line of position or a fix. Here's how it works:
Every bright star (that includes the Sun, remember) has a
geographic position
(GP) on earth that is directly below it at a given time. Stand on that spot at that time and look straight up and you'll see the star at night or the Sun during the day (clouds permitting). Use an almanac, a book of tables of star positions, and you can find, for any time and place on earth, where to find a particular star. Good chance you aren't directly under it, of course, so you'll get an angle above the horizon and a direction to look to see the star (again, at a particular time and place). But here's the rub, if you see the star at exactly the angle predicted you still don't know where you are. You only know that you're someplace on a circle under the star.
Think of a star that's an ornament on top of a Christmas tree at an outdoor lighting ceremony. You see the star, say, 60º above the street, so you call a friend on your cell phone to come find you in the crowd. Just keep the star 60º above you, and you'll find me, you tell her. Get too close to the tree and the star will be almost overhead. Get too far from it, and it'll be much lower and you'll be too far away.
But your bright friend says that's not much help because she could be anywhere on a circle around the tree and the star on top will always be 60º above her head. No worries, you say. There's a street lamp on the south side of the plaza, keep that light 47º above you and you'll find me.
Nuh-uh, says she, I could be anywhere on a circle under the lamp and the light will be 47º above me. If I do that
and
I keep the star on the tree 60º above me, too, those two
circles of position
intersect at two places and I still won't find you in the crowd unless I'm lucky.
Okay,
fine
, you tell your friend, go to a spot where the anti-collision light on top of the church steeple is 73º above your head. There, find the circle around the Christmas tree, and the circle around the street lamp. They'll all intersect right where I'm standing.
And it worked, of course. She pushed through the crowd, threw herself into your arms, and promised to follow you anywhere, smart navigator that you are.
Using a bubble sextant to calculate the altitude (angle) to a star, and tables to find the position line you can, if you use three stars, get a small triangle, the middle of which is your position or
fix
.
DR and LOPs
Which takes us to sun shots. No, that's not tossing back Christmas cheer, it's the angle you get with the sextant when you shoot the sun during the day. You can't see other stars to get a fix because the one close to us is so darn bright. But you can find the circle you're on under it. And you'll recall from high school math that a short segment of a circle, for all practical purposes, is a line. Take a sun shot, find the circle that crosses your planned route and you have what's called a line of position or LOP. You won't know where on that line you are, but it's bound to be pretty close to your course line so you'll know how you're progressing and if the wind forecast is close to predicted.
So now you know how long range navigation works, at least in principle. In the Vega, the process is actually quite simple, and it will give you something to do as you drone along.
Add-on gauges for your Vega
Add-on driftmeter and sextant gauges, available at
DC-3 Airways
, will give you the tools you need to navigate by DR and celestial.
An excellent tutorial for the sextant is available
here
.
You'll find that the sextant doesn't work exactly like a real one. It is a simulation, after all, just like our aircraft. But it comes close enough to give you a real sense of satisfaction when you find the tiny island after hours and hours of flying over a featureless ocean.
A final word
If this kind of thing interests or excites you, you'll love an old (1954) book titled
Song of the Sky
by Guy Murchie.
It's a wonderful documentary, comparable to Rachel Carson's
The Sea Around Us
and every bit as good St. Exupery's
Wind, Sand and Stars
.
Murchie, a DC-4 navigator by profession, tells how those who ride the winds find kinship with the navigators of Columbus' day. He casts light on the close comparison between the making of a calendar with its 360 odd days and navigating the globe which has 360 degrees, and explains in lucid terms how celestial navigation was first put to work by sailors and perfected by aviators.